The Bad Batch
Feature Film, US 2016, Farbe, 115 min., eOF
Diagonale 2017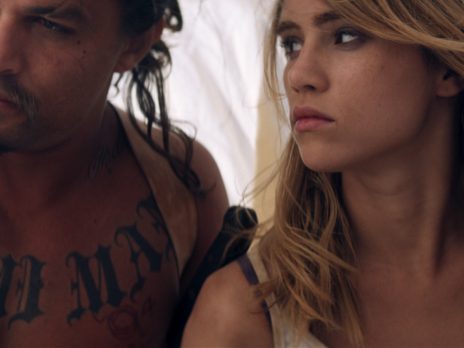 Director, Script: Ana Lily Amirpour
Cast: Suki Waterhouse, Jason Momoa, Giovanni Ribisi, Yolonda Ross, Jayda Fink, Cory Roberts, Louie Lopez, Keanu Reeves, Jim Carrey
Camera: Lyle Vincent
Editor: Alex O'Flinn
Location Sound: Chris Terhune
Production: Annapurna Pictures
Co-production: Vice

A girl walks across a cannibal-infested desert at midday … Ana Lily Amirpour's follow-up to A Girl Walks Home Alone at Night feints in the direction of sensationalistic horror – and, be forewarned, blood is spilled and limbs are hacked – but The Bad Batch uses genre as a springboard for high style and social commentary.

After her terrific freshman effort A Girl Walks Home Alone at Night slipped some intersectional feminism into its slinky modern vampire tale, writer-director Ana Lily Amirpour's glossed-up follow-up once more weaves independent identity politics into a stylish, blood-spattered mash-up of genres, from cannibal exploitation to spaghetti western. (Guy Lodge, Variety)

With The Bad Batch, Amirpour pairs elements of Mad Max and The Texas Chainsaw Massacre with western flavor for another beguiling ride. The scale has expanded and there are a few more recognizable faces this time around, but nothing about the movie's inspired wackiness bears the whiff of compromise. (Eric Kohn, Indie Wire)

In Reference
1000 Beat Film
The festival program, In Reference, draws red lines straight through the program: In it, Austrian cinema enters into a cinematic dialogue with itself and with selected international positions—reacting, interacting, commenting. The program selectively undertakes the attempt to take up related themes of the festival program, to connect them with one another, open up doors to new conceptual spaces, and initiate dialogue.