19. December 2022
The Diagonale is extraordinarily pleased to dedicate its program series Spotlight on to Goran Rebić in 2023. The Spotlight on (Zur Person) series contemplates Austrian film and cinema culture by tracing the biography of acclaimed Austrian filmmakers. In 2023, the program format is dedicated to Goran Rebić, a filmmaker and screenwriter who has at times also appeared as an actor. The film program Spotlight on: Goran Rebić will be presented from March 22 to 26, 2023, in Graz in the framework of the Diagonale and accompanied by in-depth talks, the workshop talk "Ich bin Geschichte – Filmen zwischen den Zeiten" as well as a Listening Session. More here.
22. November 2022
The Diagonale is pleased to announce the Festival of Austrian Film's new directorial team. In an unanimous decision by the general assembly, Claudia Slanar and Dominik Kamalzadeh have been selected to succeed Sebastian Höglinger and Peter Schernhuber as commercial and artistic directorship beginning in June 2023 and will be responsible for the festivals from 2024 to 2027. More here.
10. April 2022
The Diagonale catalogue serves as a representative reference work and unique chronicle of Austrian film. In a preceding essay, for example, the kolik.film editorial team devotes the catalogue to cinema in times of the pandemic. The catalogue is published by Czernin Verlag and available here.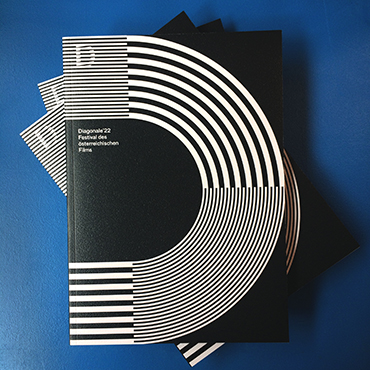 11. February 2022
Yesmin, Bella, and Nati throw over their hijabs and film their playback performance to "Losing My Religion" with a smartphone. This results in thousands of clicks on YouTube; the three friends are now highly sought stars for festivals in, of all places, religious communities. This sets off a twisted culture clash between the girls; the sorrows of young twerkers. Kurdwin Ayub's SONNE is the unprecedented film of its generation, urgently relevant in its form and content, the ironic deconstruction of all authenticity.
After its premiere at the Berlinale, the feature film will open the Festival of Austrian Film on 5 April and thus celebrate its Austrian premiere. More here.