Caribou - Sun
Music Video, US 2010, Farbe, 4 min.
Diagonale 2017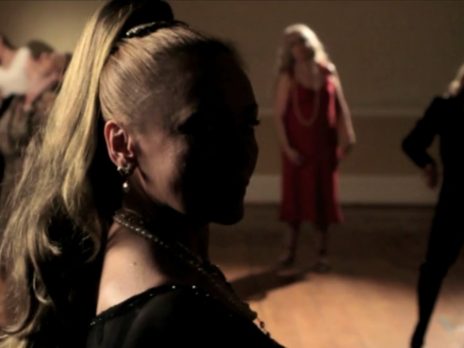 Director: Simon Owens

A peppy brew of scattering rhythms, melodious synths, and repetitive utterances of the word "Sun", Caribou's tune of the same name brings with it a video treatment that's frankly pretty surreal. Basking like they're outside in a sun drenched field slurping up the rays, a group of women awkwardly dance around the center of a ballroom. They're not alone though, as some pretty funky company decides to join in.
(David Pitz)

Three films and a comprehensive discussion on network concepts in Austrian filmmaking, that is, on the question of how many cogs mesh in order to realize a film. Two international music videos encounter a superb Austrian thriller. Often, not only people delineate a network, but also pictures.

Spotlight on
Andi Winter is an allrounder: Color grader, cameraman and assistant, master editor, supporter and sometimes actor. He embodies the flexibility and do-it-yourself spirit of a digitally democratized generation that for the most part worked and still works in precarious conditions. More than one hundred local film productions from all aesthetic corners wouldn't look the same without Andi Winter's contribution. Nonetheless, almost no one outside the industry knows his name – as is typical for talented film workers who operate between the lines.