Festival
The Diagonale is conceived as a forum for the presentation and discussion of Austrian cinematic production. The goal and task of the Diagonale is a nuanced, multifaceted and critical exploration of Austrian cinema as well as drawing the industry into the media spotlight and thereby into public discourse. Accordingly, it is the filmmakers and their works that lie at the heart of the festival, which, by means of a tailored program selection, offers the rare opportunity to become acquainted with Austrian film in all its diversity, to trace current artistic trends and, to make some (re-) discoveries along the way.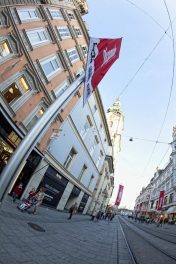 Since 1998, the Diagonale has made the city of Graz the film capital of Austria and established it as a hub of the film industry and its spectators. Approximately 1,300 accredited industry professionals and 25,000 visitors, including a large number of young filmgoers, gather in the Styrian capital to enjoy the diverse selection of films, the unique festival atmosphere, as well as the talks with distinguished guests and the wide-ranging program features. The environmental sustainability initiative of the festival, known as Diagonale Goes Green and successfully launched in 2011, aims to offer an ecological contribution so that environmental awareness and cinematic pleasure go hand in hand.
The Diagonale is member the FÖFF – Forum österreichischer Filmfestivals.