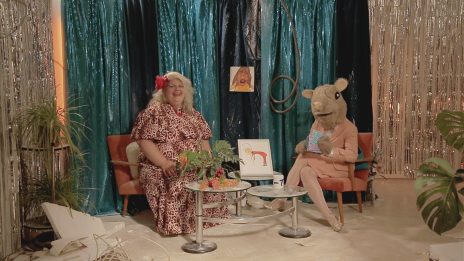 The earth has been shaken, the television studio destroyed, C-TV goes on air: Hedi, the plush talk show host welcomes people with disabilities who offer insight into their daily lives and their artistic and political work. An (unfortunately) fictitious TV show opposing the tyranny of a heteronormative and ableist society: radical, critical of representation, humorous, and barrier-free.
Director
:
Eva Egermann
,
Cordula Thym
Script
: Eva Egermann, Cordula Thym
Cast
: Em Gruber, Iris Kopera, Eva Egermann, Barbara Schuster, Luiz Javier Murillo Zuniga, Hicran Ergen, Cordula Thym, Ani Gülgün Mayr
Camera
: Magdalena Fischer, Caroline Bobek
Editor
: Cordula Thym, Eva Egermann
Location Sound
: Theda Schifferdecker, Sophie Wasserburger
Music
: Armin Lorenz Gerold u. a.
Sounddesign
: Lenja Gathmann
Production Design
: Berivan Sayici
Costumes
: Berivan Sayici
Additional Credits
: Textzitate, Titel: Ianina Ilitcheva Grafik: Lana Grahek VR-Bühne: Rebecca Merlic Compositing: Johanna Kirsch weitere Darsteller*innen: Magdalena Fischer, Caroline Bobek, Berivan Sayic, Sophie Wasserburger Spinning Toys: Katta Spiel Best Boy: Sofia Baumgärtner
Producers
: Eva Egermann, Cordula Thym