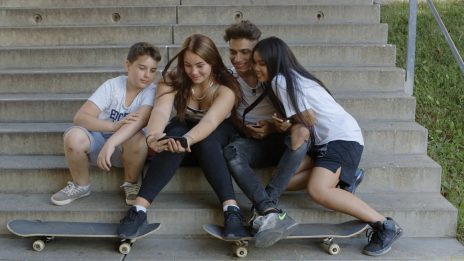 Handstands on the ping pong table, selfies while skating: the young people of Hasenleiten use the housing estate's park around the clock. And it's also good for filmmaking. Lotte Schreiber's documentary accompanies the adolescents in their daily lives and at the same time, tells the chequered history of the housing estate in southeast Vienna.
Director
:
Lotte Schreiber
Script
: Lotte Schreiber
Cast
: Alex Simic, Celina Keusch, Taha Bakar, Zehra Üreci
Camera
: Johannes Hammel, Laura Ettel, Lotte Schreiber
Editor
: Lotte Schreiber
Location Sound
: Andreas Pils, David Almeida Ribeiro, Tong Zhang
Music
: Innode, Ursula Winterauer
Sounddesign
: Andreas Pils
Additional Credits
: mit Djordje Simic, Joanne Nazaire, Zeljho Radosualjević, Marcello Simic, Johanna Lummersdorfer, Benedikt Meyer-Weitkamp, Lenka Pedemonte, Roman Schenk, Bülent Tosun, u.a.
Producers
: Lotte Schreiber