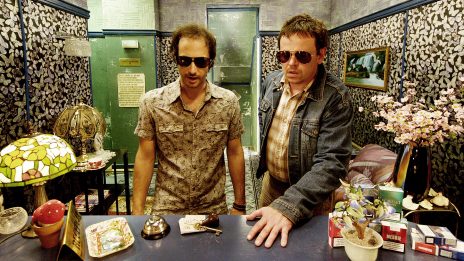 Austrian film history knows nothing quite like the trilogy Slugs, Contact High, and Hotel Rock'n'Roll, which (successfully!) aims to translate the pop culture trinity of sex, drugs & rock'n'roll into cinematographic terms. These brainchilds of late director Michael Glawogger and writer-actor Michael Ostrowski give a unique spin on Austrian comedy, and the second part, in particular, is unsurpassed in its psychedelic joy. Cinema as hallucinogenic drug.
Director
:
Michael Glawogger
Script
: Michael Ostrowski, Michael Glawogger
Cast
: Michael Ostrowski, Raimund Wallisch, Georg Friedrich, Detlev Buck, Hilde Dalik, Pia Hierzegger u. a.
Camera
: Wolfgang Thaler
Editor
: Monika Willi
Location Sound
: Paul Oberle
Sounddesign
: Out of Silence/Matz Müller, Erik Mischijew
Production Design
: Renate Martin, Andreas Donhauser
Producers
: Erich Lackner, Claus Boje, Marianna Rowinska, Nicolas Steil, Franz Novotny
Production
: Lotus-Film
Co-production
: Boje Buck Produktion (DE), Ozumi Films (PL), Iris Productions (LU), Novotny & Novotny