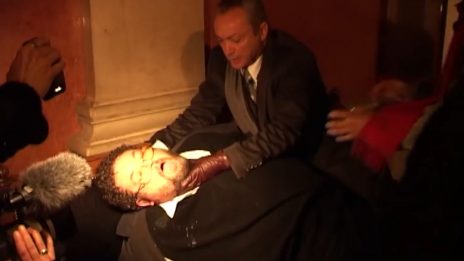 In staging Elfriede Jelinek's "Bambiland" at the Burgtheater in Vienna and the Schauspielhaus in Zurich, the renown German director Christoph Schlingensief went beyond his personal limits. In ATTABAMBI SCHEISSMICHAN Paul Poet compiles a provocative tribute from fragments of a documentary that fell through at the time—a smoky portrait miniature. The Diagonale'22 shows Poet's short film in reference to the historical special RAUSCH.
Director
:
Paul Poet
Script
: Paul Poet, unter Verwendung einer Vorlage von Elfriede Jelinek und Christoph Schlingensief
Cast
: Christoph Schlingensief, Irm Hermann, Udo Kier, Margit Carstensen, Peter Kern, Dietrich Kuhlbrodt, Schorsch Kamerun, Carl Hegemann, Julia Stemberger u. a.
Camera
: Paul Poet
Editor
: Thomas Aigelsreiter
Location Sound
: Paul Poet
Producers
: Paul Poet
Production
: Paul Poet
Co-production
: Christoph Schlingensief (DE)