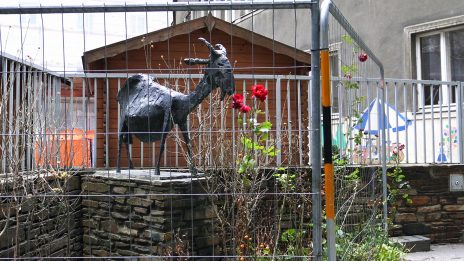 They should be as unpolitical as possible; the sculptures put up in Viennese municipal housing after 1945—lions, donkeys, camels, and turtles… Meinhard Rauchensteiner takes a look and recognizes: they still have an attitude. In satirical miniatures he lets their physiognomies speak for themselves. There's grumbling in the zoo, but where a (political) red serves solely for veiling, there won't be any revolt.
Director
:
Meinhard Rauchensteiner
Script
: Meinhard Rauchensteiner
Cast
: Darsteller*innen: Löwe - Asperner Heldenplatz, 1220 Wien; Pferd - Florian-Hedorfer-Straße 22, 1110 Wien; Ziege - Obere Donaustraße 97, 1020 Wien; Seehunde - Hofmannsthalgasse 22, 1030 Wien; Katzen - Tomaschekstraße 22, 1210 Wien; Tigerin - Rudolf Zellergasse 16, 1230 Wien; Hühner - Putzendoplergasse 10, 1230 Wien; Eulen - Vorgartenstraße 166, 1020 Wien; Kamel - Am Tabor 1-3, 1020 Wien; Bär - Hugogasse 20, 1110 Wien; Esel - Hackingerstraße 32, 1140 Wien; Schildkröte - Voltagasse 55, 1210 Wien; Fisch - Voltagasse 55, 1210 Wien; Wasserbüffel - Leebgasse 102, 1100 Wien
Camera
: Meinhard Rauchensteiner
Editor
: Daniel Zimmermann
Music
: Musik: Ein kleiner Bär mit großen Ohren, Horst Winter. Im Prater blühn wieder die Bäume, Robert Stolz (Fritz Wunderlich - Wiener Staatsopernchor - Orchester)
Sounddesign
: Tongestaltung, Tonmischung: Manuel Grandpierre, Flora Rajakowitsch
Additional Credits
: Sprecherinnen: Muhassad Al-Ani, Wessi Benderliewa, Lucas Brandstetter, Manon Fougère, Katharina Karlhofer, Daniela Kocmut, Herbert Maurer, Meinhard Rauchensteiner, Rhea Rauchensteiner, Chiara Redini, Robert Reinagl, Christian Scheib, Martina Taig, Elke Tschaikner Tonaufnahmen: ORF-Studios Arentinierstraße Farben: Andi Winter Danke an: André Heller, Thomas Wohinz, Daniel Zimmermann, mich Realisiert mit Unterstützung des Bundeskanzleramtes der Republik Österreich, des Kulturamtes der Stadt Wien und des ORF-Radiokulturhauses.
Producers
: Daniel Zimmermann
Production
: dz-productions