The Bands
Documentary Film, AT 1993, Farbe, 98 min.
Diagonale 2017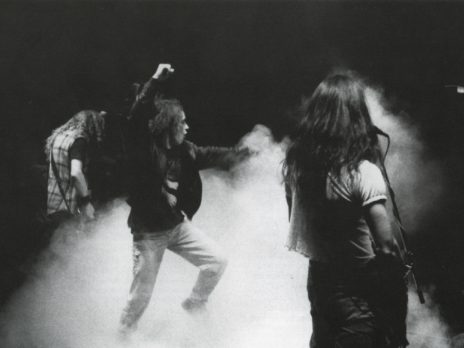 Director: Egon Humer
Camera: Wolfgang Lehner
Editor: Karina Ressler
Additional Credits: Mischung: Bruno Pisek, Sam Auinger, Alexander Biedermann, Peter Batisti
Producers: Heinz Stussak, Michael Seeber
Production: Prisma Film

Eleven years between two attempts to make tangible in film the relationship of youth culture, music and politics: from the inside out in Wolfgang Strobls Eiszeit, from the outside looking in, in Egon Humer's The Bands. Strobl comes up with a delirious mixture of classical documentary forms and avant-garde distortions, Humer creates an intense look at live gigs, allowing for the political potential they carry to become visible.
(Alejandro Bachmann)

This is not America — Austrian Drifters
Starting with the Arena occupation in Vienna in the summer of 1976, when the nexus of pop, film and political attitude became more visible than ever before in Austria, this six-part-program examines the intertwining of pop and film. The figure of the drifter functions as a guide in this search for pop instances in Austrian cinema and the fundamentally "cinematic" aspects of pop.

1000 Beat Film As romping grounds for ideologies and identities, pop has become more topical again as a venue for political and social debates. "1000 Beat Film", searches for pop motifs in Austrian film and summons a pleasurable (re)reading of its moving images – between anarchy in the pubs and hedonism in the suburban disco.