Tempo
Feature Film, AT 1996, Farbe, 90 min., OmeU
Diagonale 2017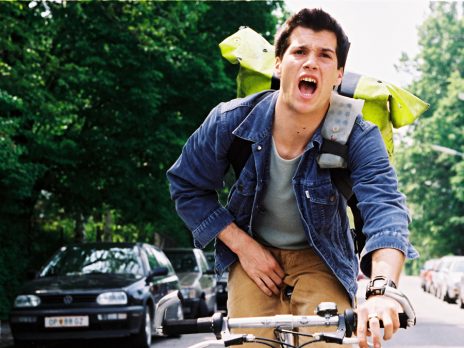 Director, Script: Stefan Ruzowitzky
Cast: Xaver Hutter, Simon Schwarz, Nicolette Krebitz, Dani Levy, Christa Stadler
Camera: Andreas Berger
Editor: Britta Nahler
Music: Peter Kruder, Patrick Pulsinger
Producers: Manfred Fritsch, Danny Krausz, Kurt Stocker

In his feature-length debut Tempo director Stefan Ruzowitzky combined a story about love and Vienna's demimonde with a portrayal of the 1990s techno scene. Bike courier Jojo (Xaver Hutter) is seen among thousands of real life ravers dancing at a deserted old gasometer, also featured in the archive TV report Techno in Wien. By contrast, Ruzowitzky's video for *NSYNC's Tearin' Up My Heart offers a rather more sanitized view of the period's vogue for post-industrial locations.

Robert Rotifer – Pop and Film
Pop and film are uneasy bedfellows. Nothing like a movie to ruin any kind of pop cred. Before Tempo, Stefan Ruzowitzky got his hands dirty with TV work, ads and music videos, but his love for the 1990s techno scene was real, earning him the trust of musicians. Likewise, Katharina Mückstein's work with Veronika Eberhart and Wolfgang Möstl on Talea was all about mutual respect. But as the latter's visual forays show, in the age of home editing and streaming pop and film can be made by the same hands.