Mile Me Deaf – Holodeck
Music Video, AT/US 2019, Farbe, 4 min., kein Dialog
Diagonale 2020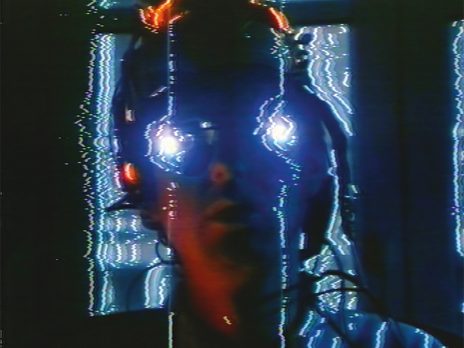 Director, Script, Camera: Kevin Pham
Cast: Aline Kunisch, Wolfgang Möstl
Editor: Kevin Pham, Wolfgang Möstl
Location Sound: Mile Me Deaf/Wolfgang Möstl
Music: Mile Me Deaf/Wolfgang Möstl
Production Design: Auris Kunisch
Costumes: Auris Kunisch
Additional Credits: Licht: Paulo De Biasi, Heidi Zimmermann
Produktionsassistenz: Konstantin Heidler
Producers: Tom Rossipaul, Julia Schreiner, Kevin Pham

The Diagonale'20 was cancelled due to official measures to contain the spread of COVID-19.

The protagonist attempts to escape his unfulfilled life with a homemade virtual reality helmet; to the Mile Me Deaf-track "Holodeck." Dazzlingly bright grid, pattern, and glistening light eat through the images of a dismal reality. Reminiscences of 1980s'
sci-fi, and pleasurable play with the aesthetic potential of digital code disturbances.