Irgendwann einmal ... Probleme der Jugendlichen in Großsiedlungen
Short Film, AT 1973, Farbe, 43 min., dOF
Diagonale 2021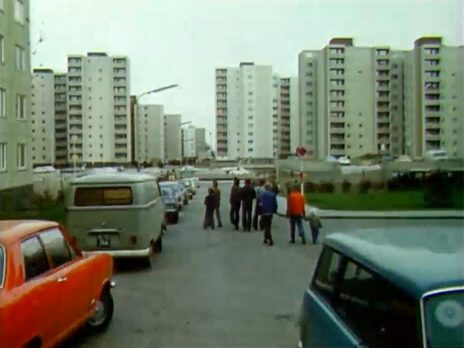 Director: Robert Dornhelm
Camera: Franz Köberl
Location Sound: Helmut Freulich
Additional Credits: Text: Peter Huemer

Three film documents reflect on a central question of urban life in different ways: what leeway exists for young people to take possession of their own space in satellite cities and large housing estates permeated by technology and regulation? Gustav Deutsch's first film allows an ethnographic look at youth rituals, Robert Dornhelm's report, and Rene Brueger's short film provide unique historical documents of youth culture and intergenerational conflicts of the 1970s and 1980s in Vienna and Graz.

"Whose Streets? Our Streets!"
Irgendwann einmal … Probleme der Jugendlichen in Großsiedlungen (R: Robert Dornhelm, AT 1973)
Jugendzentrum Per-Albin-Hansson-Siedlung Ost (R: Gustav Deutsch, AT 1977)
Losgelassen – Jugend in Graz (R: Rene Brueger, AT 1986)

In memory of Gustav Deutsch, the programme will be preceded by the short film Alles fließt by Johannes Schmelzer-Ziringer.