Coconuts
Feature Film, AT 1985, Farbe, 90 min.
Diagonale 2017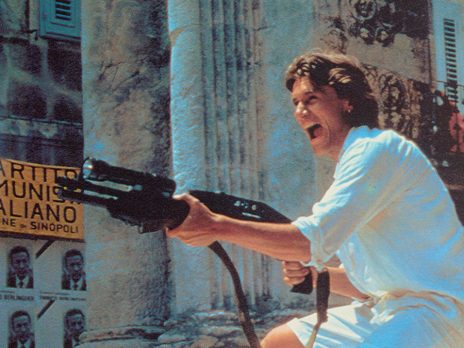 Director, Script: Franz Novotny
Cast: Hanno Pöschl, Rainhard Fendrich, Olivia Pascal, Mario Adorf
Camera: Frank Brühne
Editor: Michou Hutter
Location Sound: Helmut Junker
Music: Rainhard Fendrich
Producers: Dieter Pochlatko
Production: epo-Film
Co-production: Lisa Film Koproduktion: Roxy Film

A completely madcap buddy-action flick from the neon-swinging 1980s, a breathtakingly entertaining misfire in producing an Austrian blockbuster. Featuring Charts-Darling Rainhard Fendrich as Eddie Murphy-like loser-dude on overdrive. There are explosions, naked tits, both male and female, musical interludes, bad jokes on a money-hunt across the globe. Cinema as pure pop trash. Troma would be proud.

Austro-Pop-Film Thirty years past Falco, Austria currently enters a new phase of becoming a pop nation. With popular local singers such as Anja "Soap&Skin" Plaschg and Anna F. moving more and more into acting, Filmarchiv Austria looks back onto the first wave when pop broke out on the Danube when local songwriter-icons the likes of Wolfgang Ambros, Reinhard Fendrich, and Hansi Lang entered the charts, the mainstream headlines, and finally the silver screen as Bowie, Jagger, and Elvis had done before them. With interesting results.
(Paul Poet)

1000 Beat Film As romping grounds for ideologies and identities, pop has become more topical again as a venue for political and social debates. "1000 Beat Film", searches for pop motifs in Austrian film and summons a pleasurable (re)reading of its moving images – between anarchy in the pubs and hedonism in the suburban disco.