Vogelfrei/Hors la loi/Outlaw
Short Film, AT/DE 2010, Farbe, 11 min., OmeU
Diagonale 2011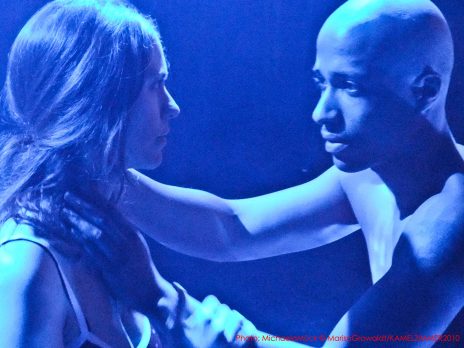 Director, Script, Costumes: Marisa Growaldt
Cast: Victoire Debré, Markus Schleinzer, Markus Bauer-Parker, Brigitte Kren, El Razzougui
Camera: Eric Ferranti
Editor: Eric Ferranti
Location Sound: BruceLaMongo, Michaela Mück
Production Design: Marisa Growaldt, kozek hörlonski
Producers: Marisa Growaldt
Production: KAMELZIMMER e.V.

A sequence shot choreographed after three performances. The picture is dark, the few color accents seem saturated but odd. Like caught in a dream, the camera feels forward, in space and in history. It wanders through events and places, driven by Franza's doing and thinking. Much stays oddly veiled in wafts of mist, as if declared by the unconscious. We follow a life, a routine and an ambivalent love story.