Sustainability: DIAGONALE GOES GREEN
The concept of "Green Responsibility" is a red thread throughout all marketing activities as well as the entire event of the Diagonale, and it positions the Festival of Austrian Film as one of the first cultural "Green Events Austria."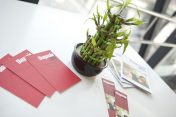 "Green" responsibility
The aim is to make a contribution, take on concrete responsibility for sustainable and raise public awareness. Central to this theme are thought-provoking impulses as well as incentives for other businesses. We encourage everyone to do the same!
Sustainable production
Responsibility for the environment and sustainability is reflected in every advertising presence of the Diagonale. Our gimmicks come from local or Austrian producers, which are either made from natural material or from recycled material. Products from businesses without sustainable criteria are no longer eligible for the festival.
Also, the catering of the festival of Austrian film focuses on local and organic products.
Innovative eco-design
To successfully implement the concept of sustainable production, we need consistent environmentally compatible product design. The challenge is to create an effective and yet ecology-minded media concept. Material properties and design are two important connecting factors in this regard. Approved seals of quality for recycling and the environment display the concept of "green responsibility" on all media used.
Save resources
The Diagonale presents itself as an entirely "green event" in all of its advertising media, as well as in its use of available resources. Consistent waste prevention and reduction of the number of copies published for advertising media have utmost priority. Forms and gimmicks are therefore strictly calculated by demand, caterers work largely with reusable materials and plastic bottles are generally not used.
Gentle mobilitity
The goal of the new strategy is, among other things, to raise public awareness for the necessary reduction of CO2. Visitors and participants are therefore invited to personally contribute to this cause, for example in their individual journey to the festival. Also, public transportation and bicycle riding are greatly encouraged.