Program Structure
"The Diagonale program reflects current Austrian filmmaking, which is an illustration of compelling diversity. A comprehensive review of the year aside, the program of the Diagonale 2013 includes a broad range of filmic approaches, including well-established filmmakers as well as young talents whose individual narrations and perspectives enrich Austrian cinema. The productive encounters of various filmic forms as well as the personal encounters with filmmakers and their work are central to the festival. The goal of the Diagonale is to create a dynamic link between films and their audience, and an open, and hopefully, continually surprising discourse." (Festival director Barbara Pichler)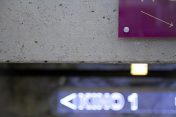 The Diagonale program structure is characterized by its diversity. Beginning with the Competition Programs, it draws from approximately 500 recent submissions and selects some outstanding films and documentaries, as well as the best short films, animations and experimental works and videos. Many of the productions from this feature will have their world premiere in Graz, or their first showing in Austria.
The festival also presents highlights of films and documentaries of the last year. Other important contricutions are the Historical Special Programs and a Solo Show that showcases the work of a particular Austrian filmmaker. In the spirit of transcending cultural differences, an international filmmaker is invited every year to make a tribute with a selection of his/her films, while in Spectrum attention is turned toward European co-productions with Austrian participation, thereby strengthening Austria's film production profile on the international stage. In addition there is a comprehensive Support and Mediation Program offered in and around the festival center in the Graz Art Museum. Exhibitions, workshops and discussion groups will present relevant topics that deal with cultural and political questions related to film. In the Film Industry Forum, the Diagonale mediates intensive forums of discussion between Austrian and international film-sector professionals, offering a different topic each year of particular importance to the Austrian film industry.
And when it comes to celebrating Austrian cinema, the festival never falls short. There are plenty of occasions to enjoy, including the Opening Gala, the presentation of awards for performance and screenplays, numerous receptions and the Nightline, where the stimulating festival days are celebrated late into the night. The festival is brought to a close with the Diagonale Award Ceremony, Austria's most esteemed film distinctions, including the main awards for Best Austrian Film and Best Austrian Documentary Film, each offering 21,000 Euros in prize money.